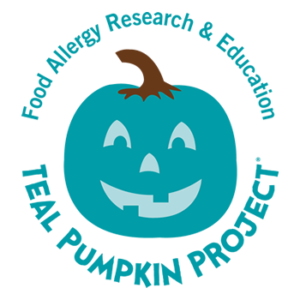 35 DAYS until HALLOWEEN
Halloween is a fun time of make believe, magic, and sweet tasty fun. But for some kids it is a scary time with real threats of life threatening food allergies. This can make it so they can't participate in some of the funnest parts of Halloween like Parties and Trick or Treating. This is simply not okay- all kids should be able to participate in Halloween. And this is how we can help! TEAL PUMPKIN PROJECT!!! Participation is easy with the Teal Pumpkin Project. 
How to take part in the Teal Pumpkin Project in your community:
Provide Non-food treats for Trick-or-Treaters
Paint or Purchase a Teal Pumpkin
Place your teal pumpkin in front of your house
Let folks know your a safe house for food allergies!
Cute 'Getting Started' Flier: TPP-How-To-Community-Download
Non-Candy Treat Ideas:
Glow sticks, bracelets, or necklaces
Pencils, pens, crayons or markers
Bubbles
Halloween erasers or pencil toppers
Mini Slinkies
Whistles, kazoos, or noisemakers
Bouncy balls
Finger puppets or novelty toys
Coins
Spider rings
Vampire fangs
Mini notepads
Playing cards
Bookmarks
Stickers
Stencils
If you have more questions visit: Teal Pumpkin Project
My Challenge to you: Teal Pumpkin Project it up! We are going to do gooey spider toys this year- so stop by our house. We want everyone to have a fun and safe Halloween!
Happy pumpkin painting friends!
– Jessie the Therapist