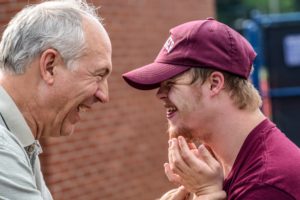 Dads are all about life lessons. One of the biggest life lessons is how to give a gift that is meaningful. So if you are looking for a Father's Day gift that is meaningful, here is some ideas.
-Think about your favorite memory of them. From here you can think of ways to recreate that memory/activity, or even just share with them how meaningful it was for you.
-Give the gift of experience. What is your favorite activity to do with your dad? Golf, hiking, going to a comedy show, watching your favorite TV show? Memories last longer than objects, so set up a time to do your favorite activity and create more wonderful memories.
-Requested Gift giving. Simply put- ask them what they want and give that to them. You may feel like this takes the fun out of gift giving, but really you are giving them something they will really use.
-Share something meaningful about your relationship. Writing a letter or just taking time to tell them how important they are in your life can be extremely meaningful. Often times in life we forget to tell the important people in our life just how special they are to us.
-Keep it simple. Make sure to keep in mind what they would really like- not what you think you 'should' do.
-Volunteer together. Sometimes we get caught up in buying gifts that we forget that spending time together is more important. Find a cause you both like and take time to volunteer together. Time is precious and memories last. Plus you both feel good by doing good.
My Challenge to you: Remember what's important and take time to tell the people in our lives how much they mean to us.
Happy Father's Day friends!
– Jessie the Therapist